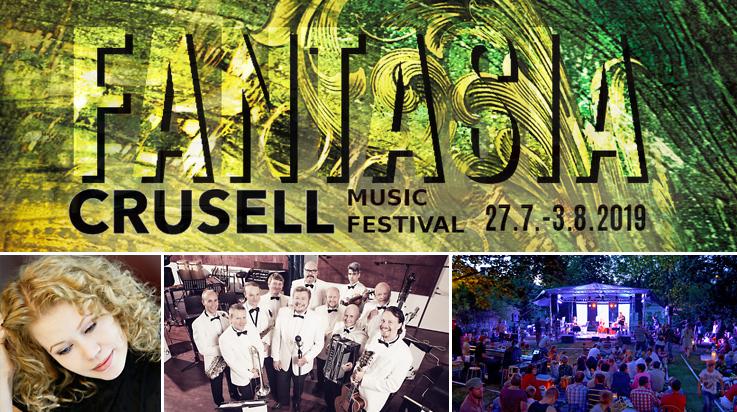 Crusell Music Festival July 27 to August 3
Wonderful experiences, encounters, and a touch of fantasy in Uusikaupunki!
The Crusell Week in Uusikaupunki is held this year for the 38th time. The Artistic Director of the festival for the second year is Tuulia Ylönen, a clarinettist at the Finnish National Opera. This summer, the Crusell Music Festival will take you to a world of fantasy.
"It feels like more and more often the mind needs a break from the tenseness of the modern society. For this reason, we chose "Fantasy" as the theme of 2019. Through the ages people have used fantasy or make-believe as a way to escape the worries of everyday life. This summer, we will hear fantasy pieces chosen by the composers themselves as well as some rare works of wind chamber music that will lead the audience into a world of fantasy. Among the composers are for example Herbert Howells, Paul Ruders, Gordon Jacob, Arthur Foote, Robert Kahn, Benjamin Britten, Robert Schumann, and Gabriel Faure", Ylönen tells.
The festival offers high quality church concerts as well as a wide range of lighter music. The popular Night of the Lanterns picnic concert this year boasts the much-loved Pepe Willberg and his orchestra. 
A novelty this year is a concert dance at the Uusikaupunki Community Hall, accompanied by the legendary Dallapé orchestra, led by Juha Hostikka.
Especially younger audiences will be taken to a world of games in the popular Game Music Collective-Lite concert. The festival also has its own children's concert, where you can hear favourite Finnish children's songs voted by the public and accompanied by Aunt Monika and the Penquin Orchestra.
In the opening concert you can hear the percussion group Osuma Ensemble, and the week culminates in a finale celebration by the Kaupunginlahti bay. Before the celebration you can head to the final concert of the festival in the New Church, starred by the dazzling Helena Juntunen.
Crusell takes you to a world of fantasy
Rauhankatu 10 23500 Uusikaupunki
(tourist information office)
Crusell Music Festival 2019
Final program and tickets will become available in March 2019.
The program can be found at www.crusell.fi 
Tickets can be purchased from Lippu.fi offices around the country as well as the Uusikaupunki Tourist Information Office.
Lippu.fi
Tel. +358 600 900 900, www.lippu.fi
Uusikaupunki Tourist Information Office
Tel. +358 50 420 5333, matkailu@uusikaupunki.fi