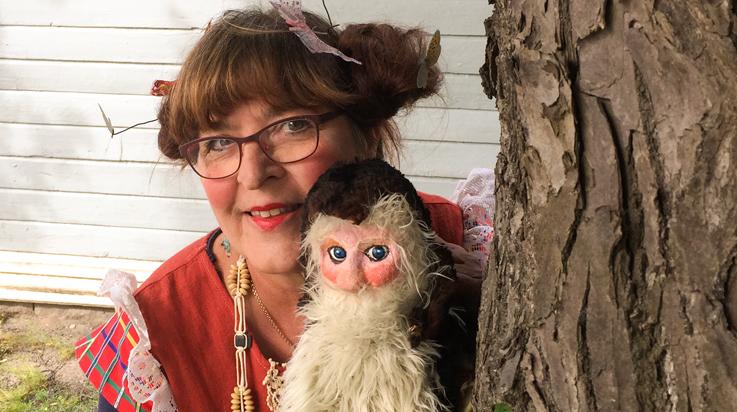 Myllymuori and the Case of the Disappearing Shoes
Excitement, fun, and good spirits
Delightful colours, amusing pictures, captivating stories – all this is Art House Pilvilinna.
What happens when Myllymuori has received an invitation to a wedding but her fancy new shoes have disappeared?
Mauri Myllytonttu takes on the problem and starts looking for the shoes immediately by checking every nook and cranny of Myllymuori's house. The sneakers are found behind the wooden sofa, the boots and sandals were hiding behind the bed, the felt slippers, the Crocs, and the gym shoes are lurking in a corner of the closet, the flip-flops are in a flower pot – but the party shoes are nowhere to be found!
Mauri Myllytonttu needs the help of the children to find the shoes in time for Myllymuori to get to the wedding.
A fun trip around the sights of Uusikaupunki filled with stories, song, play, poems and surprises. The adventure also contains its very own music – the shoe rock.
The route goes from Vaakahuone through the New Church, marketplace, Rauhanpuisto park and the library to shoe shop Alina.
The adventure trips are organised together with shoe shop Alina and the Uusikaupunki Tourist Information Office, and they have been designed for the whole family. It is recommended that under school-aged children are accompanied by an adult, and strollers are recommended for small children. The trips are also well suited for kindergarten and school groups.
Puppet theatre Piironginlaatikko
Piironginlaatikko is a professional touring puppet theatre led by Kerttu Aaltonen. Performances can be ordered for children's events, birthday parties, kindergartens, schools, play groups and libraries as well as market events etc. The theatre's repertoire includes both solo performances and larger group performances.
Further information and tour program can be found at www.piironginlaatikko.com.
Vaakahuone, Rauhankatu 10 (courtyard), Uusikaupunki.
Tel. +358 44 2828 151 / Kerttu Aaltonen
Rauhankatu 10 23500 Uusikaupunki
(Courtyard)
Tel. +358 44 2828 151 / Kerttu Aaltonen

Myllymuori's adventure trips
Adventures open for all Tuesdays and Thursdays
from July 2 to August 1, 2019 from 11 am to 12.30 pm
Trips start from Vaakahuone, Rauhankatu 10 (courtyard)
For groups by agreement May 6–31, 2019.
Tickets
9 €/person, family ticket 35 € (incl. 4 people from the same household)
Buy tickets online:
zupticket.com/visituusikaupunki
 
Enquiries:
Uusikaupunki Tourist Information Office
Tel. +358 50 420 5333, matkailu@uusikaupunki.fi

Coming this summer:
Myllymuori goes on a picnic. An eventful summer picnic for the whole family at Myllymäki.
Bring your own snacks. More information to follow!