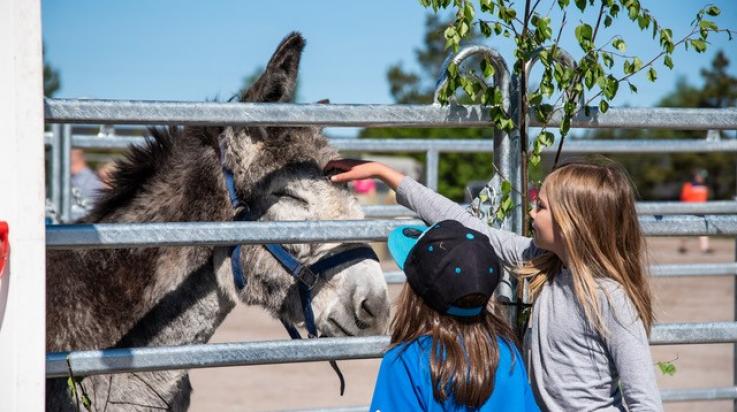 Minifarm & Flower Fair May 18-19, 2019
The opening event of the summer season in Uusikaupunki is a truly great event. The Minifarm & Flower Fair, which is organised already for the sixth time, has a lot of interesting things on offer at the perfect time, right on the brink of spring!
During the past two years, the Minifarm fair has had over 10,000 visitors, and the aim is to provide an even livelier start to the summer season than before. The most inspiring and diverse fair event of the southwestern coast is organised right at the heart of the idyllic Uusikaupunki.
Much to see, do and buy – all with one ticket
The fair weekend, which has grown into a unique and significant trade event, boasts a wide range of products.
– Minifarm and Flower Fair complement one another perfectly and provide a good starting point to provide even more versatility. We are able to offer a unique and memorable experience, an impressive location, and a top-notch line-up of companies and services. What's more, you can get all this with just one ticket, says Jarno Ihala, the head coordinator.
The event is traditionally organised during springtime, at the end of May. The spring is a season full of activity in gardens, summer houses and companies alike. – It's a time for business, says Ihala.
The Flower Fair theme area has been given centre stage – a beautiful area with its seductive hanging baskets and oceans of seedlings is right in front of the main gate.
The best picks
The Farm is the favourite among the children in the family and the highlight of the whole event. There you can meet farmyard animals, see various kinds of work demonstrations, and enjoy a great atmosphere. 
The building theme area offers solutions for the building needs of the home, the cottage, and the garden as well as products and services for interior design.
Big and small machinery will be on show for the needs of consumers and businesses alike.
From the Flower Fair area you can find beautiful flowers and seedlings as well as other types of plants for the garden or the balcony.
Exciting day trip
Minifarm offers memorable experiences, an exciting program and relaxing country-side spirit for the whole family right in the heart of the town. The fair is also a great destination for a group outing, combining business and pleasure in the form of various trade lectures and demonstrations. Why not make a day of it and get to know some of the other sights of Uusikaupunki, too? The Uusikaupunki Tourist Information Office will tailor a package for your needs.
– The pleasant seaside atmosphere of Uusikaupunki is a great place for a day trip of an exciting weekend away, Ihala says.
Trade event for professionals – a memorable experience for all!


Koulupolku 1, 23500 Uusikaupunki




MINIFARM AND FLOWER FAIR MAY 18–19, 2019
Minifarm customer service
Tel. +358 40 706 4000
info@minifarmi.fi
Opening hours
May 18 from 10 am to 5 pm
May 19 from 10 am to 4 pm
Tickets
Adults 14 €
Children 3-15 yo 7 €
Family ticket 33 €
Groups of more than 10 people (with advance booking) 10 €/person